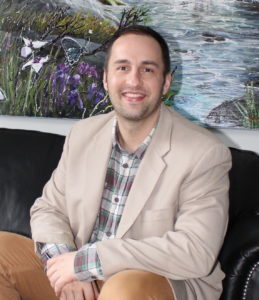 People can be nervous about going to see a psychologist. Sometimes they've had a disappointing past experience with a mental health care provider. Sometimes they imagine their psychologist will be cold, analytical, or impersonal. And sometimes they just don't know what to expect.
My psychotherapy philosophy puts client care, and the client's feeling of emotional security, first. I pride myself on the fact that, after our first or second meeting, many of my clients say, "I don't know why I was worried! I feel like I could tell you almost anything!" That type of moment is one of my main motivations for working in the mental health field!
In my work, one of my main values is to be both kind and authentic with my clients. In fact, the foundations of my value system are: 1) a non-judgmental approach that respects the client's personal autonomy, and 2) unconditional positive regard and empathy for the clients I work with (for those who want to know more about the theory behind this humanistic model of counselling, I strongly recommend a paper called "The Necessary and Sufficient Conditions of Therapeutic Personality Change" by Carl Rogers. Even though it was written 60 years ago, it's just as relevant today).
The other basis of my professional philosophy is the importance of skills-development, and tools-development. When I ask my clients what they hope to gain from our work together, I almost always hear that they want to develop effective skills and tools that they can use in day-to-day life, to take on challenging situations and overcome the thoughts and feelings that hinder their enjoyment of life. For this reason, in my work, I use effective psychotherapy and change tools that I have developed. For this reason, I base my work on the most up-to-date scientific research.
Many of the tools I have developed are freely available to everyone to use, on this website. You will find that these resources are easy to understand, and simple to use—I have discovered that psychotherapy is most effective when it is clear and understandable.